I know this is somewhat off topic however, I could find no other area to post this. I hope this meats with your approvial.....
The Myakka "Skunk Ape" Photographs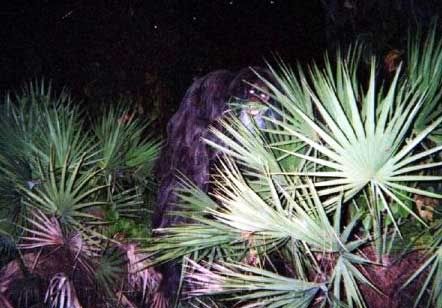 by Loren Coleman:
The best evidence for the existence of the Skunk Ape came in 2000 when several photographs were mailed by an anonymous source to the Sarasota County Sheriff's Office.
Here is the actual December 22, 2000 letter signed "God Bless. I prefer to remain anonymous" mailed to the Sarasota Sheriff's Department:
Dear Sir or Madam,
Enclosed please find some pictures I took in late September or early October of 2000.
My husband says he thinks it is an orangutan. Is someone missing an orangutan? It is hard to judge from the photos how big this orangutan really is. It is in a crouching position in the middle of standing up from where it was sitting. It froze as soon as the flash went off. I didn't even see it as I took the first picture because it was so dark.
As soon as the flash went off for the second time it stood up and started to move. I then heard the orangutan walk off into the brushes. From where I was standing, I judge it as being about six and a half to seven feet tall in the kneeling position. As soon as I realized how close it was I got back to the house. It had an awful smell that lasted well after it had left my yard. The orangutan was making deep "woomp" noises. It sounded much farther away then it turned out to be.
If I had known it was as close to the hedge roll as it was I wouldn't have walked up as close as I did. I'm a senior citizen and if this animal had come out of the hedge roll after me there wasn't a thing I could have done about it. I was about ten foot away from it when it stood up. I'm concerened because my grandchildren like to come down and explore in my back yard. An animal this big could hurt somebody seriously. For two nights prior, it had been taking apples that my daughter brought down from up north, off our back porch. These pictures were taken on the third night it had raided my apples. It only came back one more night after that and took some apples that my husband had left out in order to get a better look at it. We left out four apples. I cut two of them in half. The orangutan only took the whole apples. We didn't see it take them. We waited up but eventually had to go to bed. We got a dog back there now and as far as we can tell the orangutan hasn't been back.
Please find out where this animal came from and who it belongs to. It shouldn't be loose like this, someone will get hurt. I called a friend that used to work with animal control back up north and he told us to call the police. I don't want any fuss or people with guns traipsing around behind our house. We live near I-75 and I'm afraid this orangutan could cause a serious accident if someone hit it. I once hit a deer that wasn't even a quarter of the size of this animal and totalled my car. At the very least this animal belongs in a place like Bush Gardens where it can be looked after properly. Why haven't people been told that an animal this size is loose? How are people to know how dangerous this could be? If I had known an animal like this was loose I wouldn't have approached it. I saw on the news that monkeys that get loose can carry Hepatitis and are very dangerous. Please look after this situation. I don't want my backyard to turn into someone else's circus.
God Bless
I prefer to remain anonymous.
Known as "The Myakka Skunk Ape Photographs" they clearly show a large ape-like creature. Noted cryptozoologist Loren Coleman, who has thoroughly analyzed the photos, points out the details of forehead lines, yellow canines, fingernails and hair... all clearly visible. The photographer still has not been identified. So although the photos are compelling and Coleman does not think they are part of a hoax, they still are not proof positive.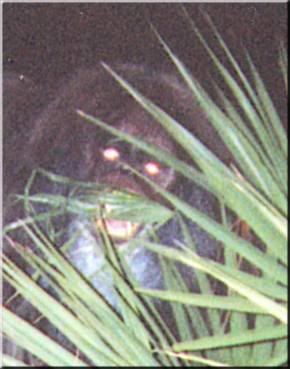 Newspapers in Florida, the Art Bell Show, and other radio programs during mid-February, decided to talk about the Myakka photographs in hopes the woman photographer would be identified.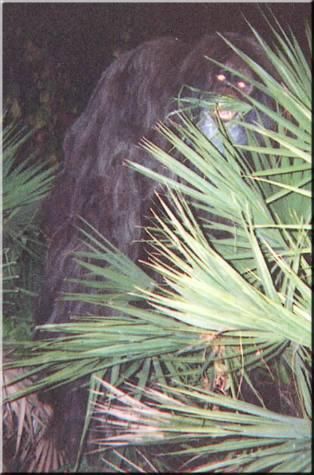 In the meantime, meaningful analyses of the eyeshine, the pupil diameter, the dentition, the tongue, hair color, and exhibited behavior of this apparent primate is taking place.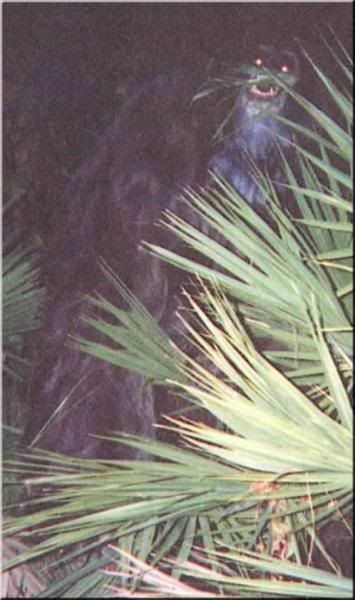 These Coleman enlargements and details were created from the first generation color prints scanned by David Barkasy of the Sarasota County Sheriff's Department's originals. These prints show forehead lines, yellow canines, fingernails, hair, and other significant details.
Copyright 2001 by David Barkasy and Loren Coleman
The Patterson film of Bigfoot: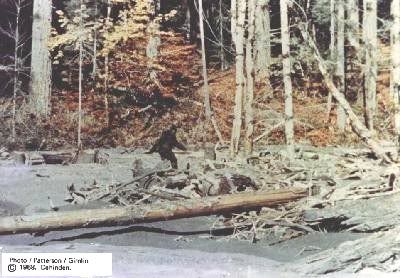 To view the entire Patterson film,
Go to:
PattersonFilmFootage
Below:
Tony Scheuhamme, a biologist with the Candian Wildlife Service, pointed out some features on a good photograph of an orangutan by Denise McQuillenn.
This is not to say the Myakka photographs are of an orangutan, but it certainly assists in identifying features that are found on a known anthropoid that appear to exist on this one too.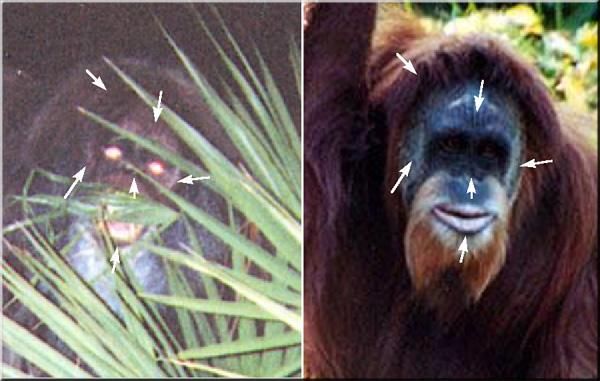 The Myakka ape head closeups:
Copyright 2001 by David Barkasy and Loren Coleman
Compared with a Sumatran Orangutan's head, photographed at the Cincinnati Zoo by Denise McQuillen, 1999
___________________________________________________________
East County Observer 07/12/01
Tracking Myakka's wily Skunk Ape:
A lot of people have sightings, but they sit on them because they don't want to look like idiots.
By Mischa Vieira...
It's been nearly nine months and there's been no reappearance of the Myakka Skunk Ape.
At least no official reports.
This past February, newspapers throughout the Southeast caused a supernatural frenzy when they ran stories about the appearance of a smelly ape nearly seven feet tall in a backyard east of I-75 in Sarasota. Sone writers quickly dismissed the idea of Florida's answer to Bigfoot. Others used the opportunity to tell a few jokes, and some suggested, mockingly, organizing a search (i.e. hunting) party to find the animal that resembles an orangutan.
One local man has done just that.
The Search:
David Barkasy is on the prowl. Barskasy was one of the first people to see the photographs of the ape last fall after they were mailed anonymously to the Sarasota County Sheriff's Office. Since then, his curiosity has been in overdrive. "It's the possibility of finding something new," Barkasy says of his search for the Skunk Ape. "I don't know if there's something out there, but the more I hear, the more interested I get."
Barkasy, owner of reptile wholesaler Silver City Serpentarium in Sarasota, has made more than 30 night-time trips to the forest east of the interstate hoping to find this legendary creature that was first reported in Lakeland in 1947. Barkasy and friends strung apples (a favored food of the ape according to some reports) with fishing line between trees and sat in the dark waiting for something to happen. Some nights nothing. A few nights they were chased out of the woods by something in the bushes.
"We would sit back and make bird calls, and a few times you'd smell something like dead animals and then we heard palmettos breaking. It could have been a bear or coyote, but who knows?" Barkasy, a former mechanical engineer, says.
On his last expedition, Barkasy was told to leave the forest by a state ranger. It turns out the land he was on is owned by Southwest Florida Water Management District and managed by the Myakka State Park. For the men to be there after hours, they needed special permission from Swiftmud, which Barkasy had not obtained, but says he intends to do in order to install motion cameras in the area. "I want to know what was out there chasing us out of the woods. There's not too many animals that'll stalk you."
Loren Coleman, a noted cryptozoologist (hunter of hidden animals) who studied the Myakka case, fully believes what was photographed is not a costume or a fake, or even an escaped zoo animal. He's bent of finding the photographer so he can figure out where the citing took place and examine it.
Barkasy is helping. He's discovered that the photographs taken last fall were printed in December 2000 at the Eckerd photo lab at the intersection of Fruitville and Tuttle Roads. He wants to find the eldery woman who took the pictures, but who prefers to remain unknown because she doesn't "want any fuss or people with guns traipsing around" her house. It seems the legend of the foul-smelling primate will have to remain hidden a while longer, if not forever, without the help of people who've made contact with it. Barkasy believes the number of people who've seen this creature is actually greater than one would think.
"Working with animals I hear a lot of things. Cub scout leaders camping on the Manatee River have told me stories, so have hunters," Barkasy said. "A lot of people have sightings, but they sit on them because they don't want to look like idiots."
[url=
www.freewebs.com/jacks...iads[/url]